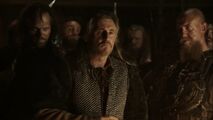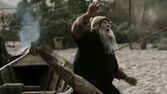 In episode 5, season 1 (
Raid
),
Earl Haraldson
led an attack against
Ragnar Lothbrok
and his family. After the
trial
against Ragnar for the murdering of
Knut
failed, Earl Haraldson was forced to free him and unable to punish him for the death of his half-brother. This made the earl very angry and infuriated, which led him to attack Ragnar's farm and family.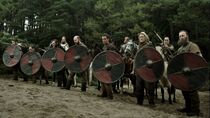 The Raid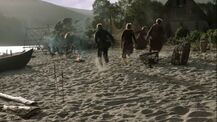 While Ragnar was hunting out in the woods, Earl Haraldson and his hird launched an attack on his farm. Several warriors, some of them mounted on horses, charged against the farmers.
Bjorn
and the others fled for their lives, and while Ragnar's son managed to flee to his house, the other farmers weren't so lucky. Inside their house,
Lagertha
called
Athelstan
and
Gyda
and urged them to defend themselves. Bjorn argued that they should run away because they were too many, but Lagertha told him to stay strong and wait for Ragnar's arrival.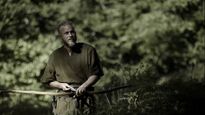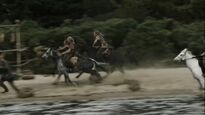 In the woods, Ragnar heard his farmers screaming. He started to run to save his family, but was stopped by the raiders and
Svein
,who shot him with an arrow. Despite being wounded, Ragnar managed to enter inside his house an tell his family to escape through an hidden passage. Ragnar then left the house, and was confronted by Earl Haraldson, who accused him of being a criminal. Ragnar started praying to
Odin
, and then threw his axe to the nearest warrior and escaped atop a horse.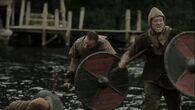 Meanwhile, Lagertha, Bjorn, Gyda and Athelstan managed to escape the farm and fled in a small boat. Ragnar was being chased by mounted warriors, and dismounted in order to trick them into following the unmounted horse. He then fled to a stream, but was found again and chased by the raiders, this time on foot. Ragnar, badly injured, stopped on a cliff, and below the cliff, on the water, was his family on the boat. With two warriors behind him and ready to capture him, Ragnar had no option but to jump into the water. Athelstan then dived off the boat and rescued him.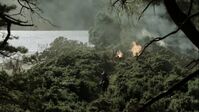 With their house and farm burned to the ground, and all their cattle and farmers dead, Ragnar and his family sought help from
Floki
and
Helga
, who welcomed them in their house.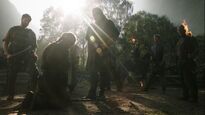 Community content is available under
CC-BY-SA
unless otherwise noted.