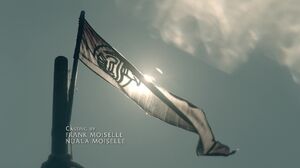 The House of Münso is the current royal house of Kattegat. Their founder and leader was Ragnar Lothbrok and the symbol is the raven, a reference to their claimed ancestor Odin, the raven-god.
Following Ragnar's death in England and the murder of Queen Aslaug by Lagertha, the line of succession is unclear and who become the new head of the House has yet to be seen.
After the Heathen Army landed a foothold on England, Sigurd was killed in a fit of rage by Ivar. Bjorn and Ubbe wanted to settle down and farm, Ivar and Hvitserk however, wanted to continue their plunder and raids.
Members
The house consists of:
Affiliated with the House of Lothbrok:
Family Tree