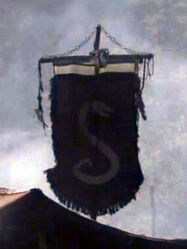 The House of Sigfred was the royal house of Denmark. Their colors where black, white and green and their symbol was a serpent. Their aggression towards the House of Lothbrok and Kattegat led to their demise and eventual extinction.
Members
At the end of the 8th century, the house consited of:
King Horik † (Son of Götrik; killed by Ragnar Lothbrok and his inner circle):

Queen Gunnhild † (Wife of Horik; killed by earl Lagertha):

Erlendur † (Second oldest son of Horik and Gunnhild; murdered by his own wife);
Various sons and daughters of Horik and Gunnhild †; all slained by men loyal to earl Ragnar Lothbrok during the Bloodbath at Kattegat.
Associated members: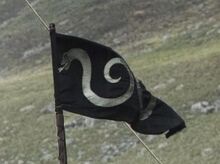 King Hemming of Denmark ( Cousin of Horik and Nephew to King Gudfred of Denmark).
Former Members
Community content is available under
CC-BY-SA
unless otherwise noted.